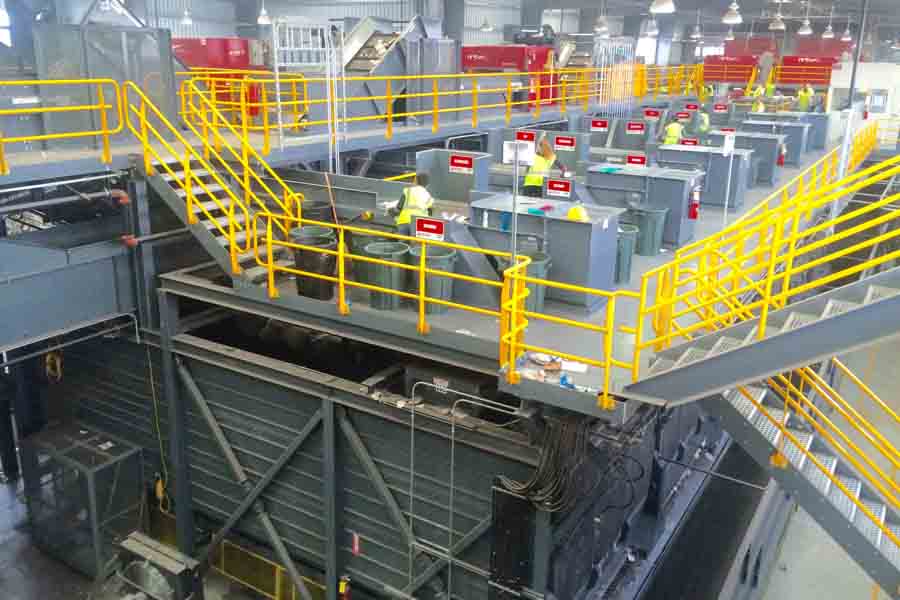 Athens Services
Sun Valley, CA
Bulk Handling Systems

September 2014

Systems Installation

Installation of landfill diversion materials recycling facility.
Work included but was not limited to installing structural steel, storage bins with walking floors and leveling screws, hydraulic opening storage bin doors, chain hoists, apron or pit conveyors, chain-belt conveyors, conveyor belts, hoppers and chutes, stairs, walkways and handrails, installing safety access platforms, installing maintenance platforms, installing optical sorters, installing ducting, the installation of air compressors and air piping, push walls, City of LA certified welding, grouting of columns, assembly of multiple Nihot Air Density separators and installation of QC areas.
Equipment at this facility: Apron conveyors, air compressors and dryers, Z-pan steel belt conveyors, metering wheels, automated bag opener, belt conveyors, OCC Screens, hoppers, DRS screens, Nihot Air separation equipment, magnets, eddy currents, optical sorters, manual sort conveyors, balers, fans with ducting and a glass waste system.